Let's spread some City Schools good news!
American Education Week is a time to celebrate our schools and amazing educators! Among those educators are seven City Schools health and physical education teachers who recently received awards during the annual SHAPE Maryland Awards Ceremony.
Christopher Alonso (Armistead Gardens) was named Elementary Physical Education Teacher of the Year and Muhammad Benyameen (Hampden) was named the Middle School Physical Education Teacher of the Year. Plus, Matt Allen (William Paca), Shannon Furdak (REACH!), LaShawn McClary (Armistead Gardens), Erica Patterson (Baltimore School for the Arts), and Margo Workman (Itinerant Adapted PE) won Simon McNeely Awards for excellence in health and/or physical education.
Check out how schools are celebrating American Education Week:
Woodhome is celebrating with the theme of lifelong learning!
Liberty has school spirit ideas for students and events for parents!
Eutaw-Marshburn has a week of fun activities!
Lillie May Carroll is celebrating with spirit week!
Glenmount's week is packed with activities!
Walter P. Carter is showing school spirit all week!
Reginald F. Lewis kicked off the week with Restorative Shop Talks and Talks with Manis. Students got shape-ups, cuts, and manicures, while talking with local leaders and professionals. The event was a huge success thanks to donations and volunteer services from around the community including school alum Desean Evans who volunteered his barbering services.
Franklin Square kicked off the week with a bucket band performance by sixth grade students welcoming students, parents, and staff.
Congrats to Antonio Dismel, a 12th grade student from Reginald F. Lewis, for being the first young person to receive the Y's Geraldine Young Service to Youth Award! He exhibits an extraordinary commitment to and support of the Y's youth development work.
Ms. Timmons, a social studies teacher at Digital Harbor, held a gender reveal party for her baby with students and staff at her school. Is she having a girl or a boy? Watch to find out!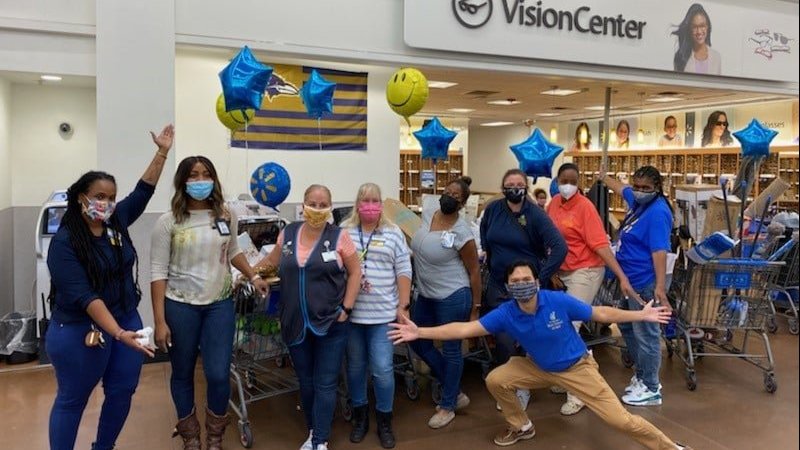 The Baer School received a grant from Walmart to create and stock Baermart, a retail store at the school that will also be used to teach students vocational skills! They'll be having a grand opening this month.
Meet Ty! Ty is a 27-piece anatomy model that lives in Mrs. Nutsugah's health classroom at Baltimore Design School. Ty is gender fluid and uses "they" pronouns. Mrs. Nutsugah uses them for conversations, such as the location of the amygdala in the brain while talking about stress.
Last week was National French Week and BIA West and East celebrated with their talented French immersion students. The celebration included learning about the many Francophone countries their teachers come from and student performances! Thanks to John Neubauer, Mme Tchapda, and Mr. Drabo for helping make it happen. Bravo et Félicitations à tous!
A group of fifth grade Holabird students decided they want to host a book club, on their own, after finding a set of books they haven't read yet!
Bluford Drew Jemison's Hospitality-Culinary Club Arts headed by Ms. Hale and Ms. Mason had a cooking demonstration with student chefs and servers. The amazing food they cooked up was shared with staff!
Fivve Meyers, an 8th grade student at City Springs, had the opportunity to interview award-winning actress Debbie Allen and award-winning author Tami Charles as part of this year's One Book Baltimore program.
Last week we recognized an outstanding school psychologist and we wanted to take the time to recognize one more. Dr. Ericka Levy has been City Schools for 15 years, fighting for equity and fairness for all students and is especially passionate about educators' over-identification of students with emotional disabilities. Dr. Levy consults with staff regarding behavior interventions and provides districtwide professional development on the identification and supporting of students with disabilities. As a former City Schools student, Dr. Levy sees a little of herself in all of her students which fuels her desire and passion for City Schools. Her motto is "just do right by the students" and can be seen doing so in her daily practices. Dr. Levy is a member of the MSDE Behavior Steering Committee and City Schools' Behavior Consultation and Central IEP Teams.
Congrats to Board Commissioner Ateira Griffin, who has been named as a semi-finalist for the Baltimore Homecoming Hero Award in recognition of her role as founder and executive director of Building Our Nation's Daughters (BOND), an organization that seeks to disrupt oppression on Black communities, particularly women of color and single mother households.
Congrats to the most recent set of distinguished principals, transformational principals, and distinguished district administrators.
Distinguished Principals: Patricia Burrell, North Bend; Nicholas D'Ambrosio, ACCE; James Dendinger, Thomas Johnson; Cindy Harcum, City College; Matt Hornbeck, Hampstead Hill; Najib Jammal, Lakeland; Marc Martin, Commodore John Rodgers; Rhonda Richetta, City Springs
Transformational Principals: Harold Henry, Frederick; Danielle Tillman-Cromartie, Harford Heights
Distinguished District Administrator: Dawn Shirey, Director of 21st Century Learning
Do you like Winning Wednesday?
Baltimore City Public Schools does not discriminate based on race, ethnicity, color, ancestry, national origin, religion, sex, sexual orientation, gender identity, gender expression, marital status, pregnancy/parenting status, disability, veteran status, genetic information, age, or other legally or constitutionally protected attributes or affiliations, as outlined in Board Policies JBA, JBB, JICK, ACA, ACB, and ACD. Read the full nondiscrimination notice.